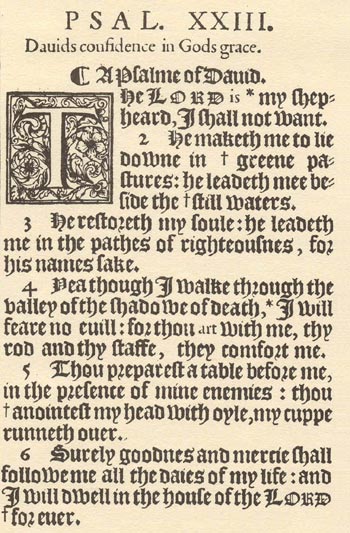 Psalm 23 in the original 1611 Authorised Version ("King James")
Interesting stuff. I received an e-mail about the website
Top Verses.com
:
Sydney, Australia, October 22, 2007 - The most popular scriptures have been revealed after an internet survey of 37 million Bible references. The survey results rank every Bible verse by popularity . . .

Top Verses ran the survey in August 2007 by counting how often every Bible verse is
referenced in web pages across the internet. The 31,101 verses were ranked by the
results. As well as listing top verses overall, the site uses the results to rank Bible books
and chapters.
* * *

Results
Top 10 Verses
Verses are taken from the NIV
1. John 3:16 For God so loved the world that he gave his one and only Son, that whoever believes in him shall not perish but have eternal life.
2. John 1:1 In the beginning was the Word, and the Word was with God, and the Word was God.
3. John 14:6 Jesus answered, "I am the way and the truth and the life. No one comes to the Father except through me".
4. Matthew 28:19 Therefore go and make disciples of all nations, baptizing them in the name of the Father and of the Son and of the Holy Spirit.
5. Romans 3:23 For all have sinned and fall short of the glory of God.
6. Ephesians 2:8 For it is by grace you have been saved, through faith-and this not from yourselves, it is the gift of God.
7. Genesis 1:1 In the beginning God created the heavens and the earth.
8. Acts 1:8 But you will receive power when the Holy Spirit comes on you; and you will be my witnesses in Jerusalem, and in all Judea and Samaria, and to the ends of the earth.
9. 2 Timothy 3:16 All Scripture is God-breathed and is useful for teaching, rebuking, correcting and training in righteousness.
10. Romans 10:9 That if you confess with your mouth, "Jesus is Lord," and believe in your heart that God raised him from the dead, you will be saved.

Top 10 Books
_ Ephesians
_ James
_ Titus
_ 1 John
_ 2 Peter
_ John
_ Philippians
_ Colossians
_ Romans
_ 1 Peter

Top 10 Chapters
_ 2 Peter 1
_ Psalm 1
_ John 2
_ James 4
_ Romans 12
_ Isaiah 53
_ John 3
_ Romans 1
_ James 1
_ Acts 1
* * * * *
My own favorite Bible verse, by the way, is Romans 8:28: "We know that in everything God works for good with those who love him, who are called according to his purpose." (RSV) My favorite biblical book is the Gospel of John. My favorite chapter is Isaiah 53 (the amazing, moving prophecy about the rejection of Jesus as Messiah and the crucifixion).
What are
your
favorites?