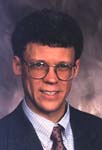 Dr. Robert Koons and a vocal, blissfully content-free
critic of his conversion: Lutheran seminarian Josh S.
Dr. Robert C. Koons
, a philosopher at the University of Texas - Austin (and formerly an avid Lutheran), has announced that he will be received into the Catholic Church on 26 May. I encourage folks to welcome him in that thread, just as Dr. Francis Beckwith was so warmly greeted by many (as well as blasted by the usual suspects).
He lays out his reasoning in considerable depth in his
Lutheran's Case for Roman Catholicism
. Dr. Koons cautions the reader of this longer explanation with the following comments:
I have available a set of private notes that began as a purely intellectual exercise: an attempt to exorcise my doubts about Lutheranism by putting them to paper and exposing them to critique (both on my part and on that of others). As it turned out, the more I wrote, the more reasons I found for changing my outlook. . . .

Bear in mind that I am no professional theologian, and I claim no special authority for my conclusions. I welcome feedback to these notes, but I would ask that my readers take a look first at John Henry Newman's book, An Essay on the Development of Doctrine (1845). Newman's book is essential background reading for my notes, because he provides the decisive rebuttal to the argument that the supremacy of the Pope and other contemporary, distinctively Roman Catholic doctrines constitute objectionable "innovations". Newman convincingly argues that the recognition of genuine development in Christian doctrine is inescapable, as anyone who knows the history of the doctrines of the Trinity and the two natures of Christ must recognize.
But don't take Dr. Koons' admirable self-effacing humility too literally. After all, he has a B.A. degree in Philosophy and Theology from Oxford University (First Class Honours, 1981). I found his lengthier treatise to be very well-written and researched indeed. It is a superb apologia for the Catholic view of soteriology and justification, and effective critique of the Lutheran counterpart. In his brief blog explanation he summarizes the three main reasons:
(1) new scholarship (primarily by Protestants) on Paul's epistles, which raised profound doubts about the correctness of Martin Luther's and Phillip Melanchthon's excessively individualistic and existentialist reading of Paul's teaching on justification by faith,

(2) the fruits of Lutheran/Roman Catholic dialogue on justification, expressed most fully in the Joint Declaration on the Doctrine of Justification in 1997, that greatly clarified for me the subtlety of the doctrinal differences between the two bodies, and

(3) a more thorough exposure to the writings of the early Church fathers, especially those considered most "evangelical": Chrysostom, Ambrose, and (above all) Augustine of Hippo.

I began to realize that many Lutheran and Protestant polemicists have been guilty of two fallacies: a straw-man version of contemporary Roman Catholic teaching, and a cherry-picking of quotations from the Fathers, ignoring the undeniable contradiction between the teachings of those Fathers, taken as a whole, and the one-sided version of the faith-alone doctrine on justification embraced by the second generation of the Reformation (especially Martin Chemnitz).
I'd love to see a Catholic who became a Lutheran write anything remotely as insightful and cogently argued as what Dr. Koons has already offered us. If anyone can direct me to such a piece, I would be greatly obliged.
That
would be something well worth spending some serious time interacting with.